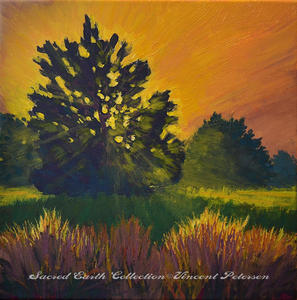 "Praise to you O Lord through Sister Earth ...
And through All that you have made"

Canticle of Creation - St. Francis of Assisi






Welcome to my website.
The work that is shown here represents over 20 years of
serious painting and I humbly offer it for your enjoyment and inspiration.
I paint because God has given me an insight into the beauty of The Creation.
My time in the studio is both ministry and prayer.
It is one of my attempts to help others see what I see
- a window into eternity and the magnificent creativity of God.
With brush and canvas I also participate as a co-creator with God.
Through the incarnation of his Son, God has chosen to make this planet
a dwelling place for the Divine.
Therefore we call this planet, '
Sacred Earth'.
The environmental crisis is primarily a spiritual one. We have forgotten that we are creatures who along with all living things are dependent upon God and this fragile planet for existence. It is my belief that we will not save what we do not love, therefore I hope that these Earthscapes here will help you to fall in love again with The Creation.
The Sacred Earth Collection actually includes over 250 + paintings. Many of these are now in the possession of others. You will notice that (for now) those that are not sold or in my private collection are marked 'Available'. A PayPal account will soon be set-up for a more convenient way of payment, but for now I will be happy to negotiate with you directly if you desire to purchase a painting. These paintings are looking for good homes. Prints and Prayer Cards can be ordered directly by going to www.postaldispatch.com.

Friar Vincent Petersen OFM Conv.